McDonald's Salad Has More Calories Than A Big Mac!
---
---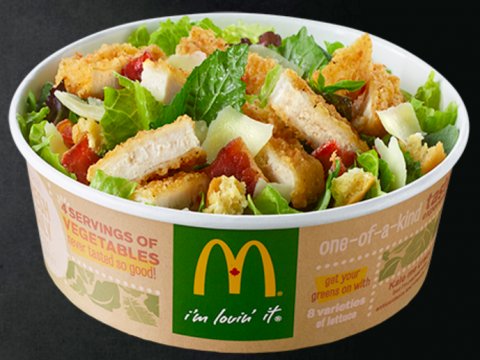 McDonald's Canada's "Keep Calm, Caesar On" crispy chicken salad. Source: McDonald's Canada
The company is marketing the salads as healthy alternatives to McDonald's traditional menu. The fast-food chain touts "4 Servings of Vegetables Never Tasted So Good" for its Caesar Salad with Crispy Chicken bowl, while urging customers to "get your greens on."
The food chain boasts on its website that the "delicious" salad is made with a "nutrient-rich lettuce blend with baby kale, delicately topped with delicious crispy bacon, real parmesan petals and roasted garlic focaccia croutons."
Don't be fooled by the description. The "superfood" Caesar Salad with Crispy Chicken contains 730 calories – 50 more than a Big Mac's 680 calories. [1]
Take a look at the salad's nutritional profile compared to McDonald's other offerings:
Kale Caesar Salad Crispy Chicken
730 calories (with dressing)
10g saturated fat
100mg cholesterol
1140 mg sodium
(You can order grilled chicken instead of crispy (fried), but it will only save you 150 calories.)
Bacon McDouble Sandwich
420 calories
9g saturated fat
70mg cholesterol
1050mg sodium
Big Mac
520 calories
10g saturated fat
70mg cholesterol
950mg sodium
10-Piece Chicken Nugget
460 calories
5g saturated fat
70mg cholesterol
820mg sodium
Large French Fries
560 calories
3.5g saturated fat
0mg cholesterol
420mg sodium
Regular Oreo McFlurry
560 calories
12g saturated fat
45mg cholesterol
390mg sodium [2]




A McDonald's representative told CBC that customers can swap other ingredients to make the kale salad healthier, such as excluding the dressing, which would reduce the calories to 520 and cut the fat nearly in half.
But that's not really the point.
The average customer might have no idea how fattening crispy chicken and salad dressing is, and might assume that a salad is inherently healthier than, say French fries.
ThinkProgress points out:
"It's not uncommon for fast food chains like McDonald's to market their products as healthy choices without actually improving their nutritional value. This deceptive marketing underscores the potential benefits of calorie labeling at chain restaurants — something that is required under Obamacare.

The rules, which were scheduled to go into effect at the end of last year, were delayedafter a major campaign by restaurant lobbyists. Restaurants and other establishments serving prepared foods now have until December 1, 2016 to comply, unless the rules are delayed again."
Though, to McDonalds' credit, the fast food company is fairly open to posting calorie counts, whereas the pizza industry vigorously opposes it. Additionally, McDonald's has said that it will reject genetically modified potatoes in its products. [3]
McDonald's sales had been dropping dramatically, in large part because people are eating healthier. But it was reported in late January's that the company's earnings for the fourth quarter of 2015 were better than anticipated, thanks to all-day breakfast, and "unseasonably mild weather." It is the biggest sales jump that the world's biggest fast food chain has experienced since 2012.
The burger giant still has a long way to go, though.
This article originally appeared at Natural Society.
---
Always remember to SHARE important information! We can change the world.